Code Quality Assessment
PRECILOG and TIOBE offers a software code quality assessment service based on the official ISO 25010 standard on software product quality. The main focus of the assessment is measuring the reliability, maintainability and security of your software system.



Deliverables
Report

The assessment report contains about 20 pages and explains the findings of the more than 350 metrics that are applied to your code. It also provides recommendations, benchmarks and an overall qualification.

Presentation

During a presentation the report is explained in detailed to all stakeholders including software management and software engineers.

TiCS Viewer.

All data that has been collected is available in the TiCS dashboard. This is dashboard in which you can drill down from high level findings to individual issues in the source code. This dashboard will be made available.
Approach
The TIOBE software quality assessment is based on the TIOBE Quality Indicator approach as defined in the document: https://www.precilog.com/en/products/tiobe_quality_indicator.php. The approach is based on the ISO 25010 standard about software product quality and measures the quality attributes of this standard.
Qualification is done based on the metric scores, resulting in an outcome ranging from A to F. Based on the application domain, a certain level should be reached. E.g. in the semiconductor industry the scores should be at least at level C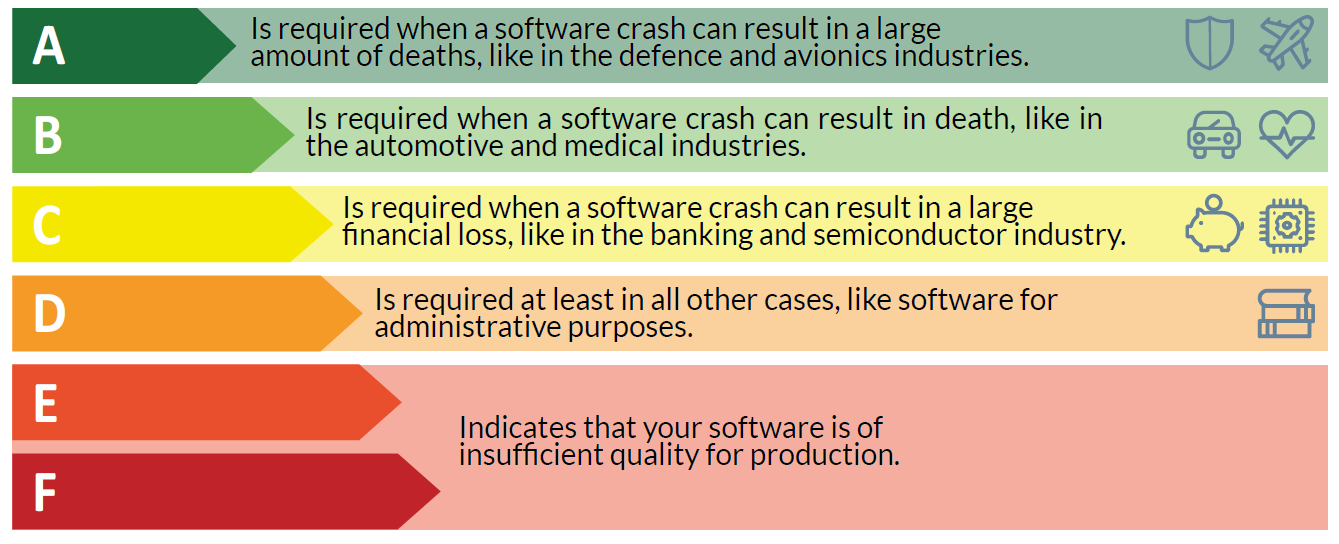 It is important to note that other ISO-related quality factors or company specific requests can be measured as well during the assessment. Examples are the identification of performance bottlenecks or judging the longevity of external libraries.
Request a Code Quality Assessment